How Entrepreneurs Can Change The World
Being an entrepreneur is a very satisfying and rewarding task. It requires huge doses of perseverance, creative thinking, planning, communication, marketing, management, lots of self-reflection and leadership skills, on top of independent thinking, risk taking, foresight, self motivation and instinct, to name a few.
I believe that entrepreneurship can change the world when we add the human innate nature of compassion into the above mix.
Say hello to the conscious entrepreneurs, those who go after their passion in life and want to make a difference in the world. You can also call them Level 5 Leaders, as Jim Collins mentions in his book, "Good To Great". From Jim's work and research, we know that these are the people who built GREAT businesses and organizations that last.
First of all, let us take a look at this diagram below which depicts what our passion and purpose is: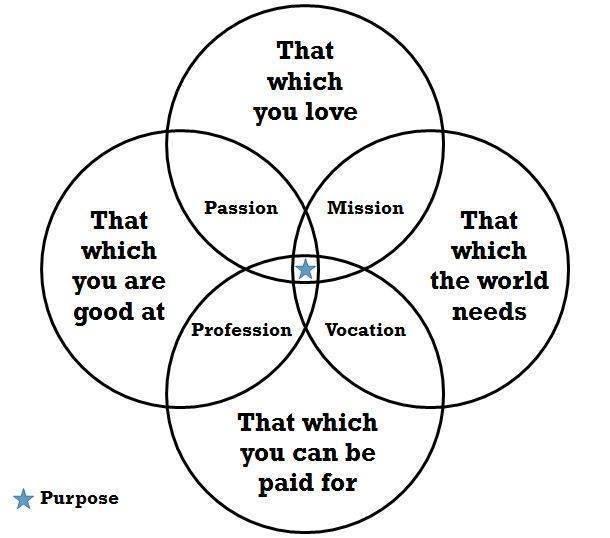 Here is my definition of a conscious entrepreneur. It is an entrepreneur who :
Wants to make a difference in the world
Wants to live out their highest purpose and passion for their life
Aware of the needs of the world and contributes towards that
Does everything coming from compassion and humility
A conscious entrepreneur can have a for-profit or not-for-profit business model. Both work as long as the above criteria are met. My personal belief is that we need to be able to feed ourselves too before we can help others, and since not all of us are born with a silver spoon or are multi-millionaires already, so why not build a business that helps others and ourselves at the same time?
You CAN make money while also making the world a better place at the same time.
Jim Collins, Steve Jobs, Oprah Winfrey, Sir Richard Benson and countless ultra successful people have quoted that we need to follow our passion, do what we love and from there the money will follow. They do not do something purely for the money because those who do that will never be able to persevere for long enough to amount to much. If you're having a hard time finding passion in your work, then you need to search for the human benefit in what you are doing. Refer to the diagram above to find out what your purpose is and create a business around that.
So how does OVOC do this then?
We consider ourselves as Genies – the wish-granters. We believe that businesses serve a major purpose of creating excellent lifestyles, creating jobs and bring good to the World with each of your special purpose. We love working with leaders and inspired individuals who has a purpose to share with the World. We believe in you, your potential, your dreams, goals and aspire to help you become number 1. On top of that, we strive a lot on developing the potential of everyone we come in touch with, including our clients, their businesses and ourselves.
How we achieve this is by using our creativity. Though, we are not just designers. Yes, we create amazing logos, brands, brochures, websites and help you in your online marketing strategies. We go the extra mile to help package your business nicely, help look at your content to make sure that your message is strong and clear, give you tips on how to attract more clients and the right mindset to have to be uber successful. Plus, each of you has direct access to our Creative Director, Marrilyn, who has over 14 years of experience in design, online marketing and coaching.
We give back through the articles, valuable tips and insights for entrepreneurship, online marketing, and planting 50 trees on your behalf with each project.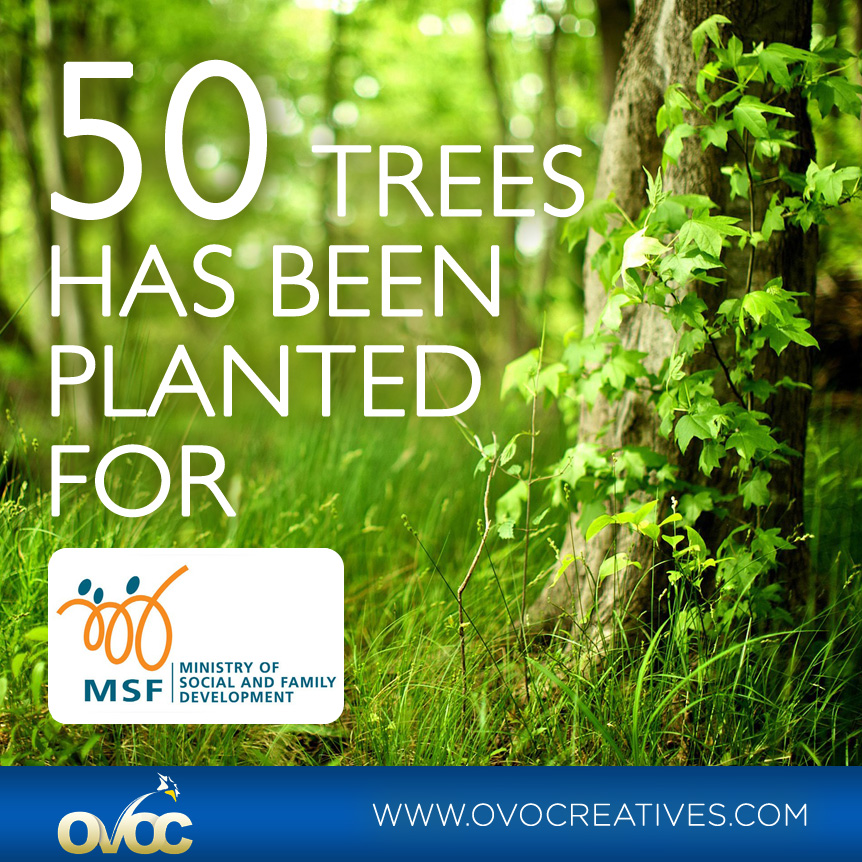 The first 50 trees we have planted this year are for the Ministry of Social and Family Development.
Take for example the time when you were in Primary School and your teacher asks everyone in class what job you would like to be when you grow up, everyone answered a profession that will serve the world good such as a teacher, am I right? We need to dig back into that part of us and find our purpose from there. Just that this time, find something that you can turn it into a business with.
If you're an entrepreneur, you certainly know that risk isn't the reward. The rewards are driving innovation, changing people's lives, creating jobs, fuelling growth, and making the world a better place to live. Entrepreneurs can be anyone. Grab the opportunity to create the job you always wanted. Help in healing the economy. As Steve Jobs said, "the people who are crazy enough to think they can change the world are the ones who do". Make a difference and take your business to greater heights.
IT'S YOUR TURN
What do you think of this article? Share your experience and insights in the comment box below.
---
Sign up for our free newsletter by entering your email address and name below to keep updated plus receive our free report "Top 5 tips for successful internet marketing that help supercharge your profits". Yes, all these for FREE!